The latest information on the Transor and our One Micron Filtration System.
Dateline: May 2022
New Improved Features For OMF Filter Units At IMTS
Transor Filter will debut a number of improvements to their line of One Micron Filtration systems, including a new, improved design for their V-Series Filtration units that will be in booth 237440 at IMTS 2022.
According to Irv Kaage, Transor CEO, "We continue to innovate as a company. Because Transor's One Micron Filtration (OMF) delivers benefits to varied applications such as tool and cutter grinding, both carbide and HHS, lapping, EDM, carbide tipped saw blades and the like, we're constantly reviewing how to improve those end user experiences."
The addition of touchscreen technology to the unit's control boxes will enhance communication with the machine operators.  With a simple "touch", operators will be able to display many of the machine functions in real time.  
With the increase of automated and unattended machining, Transor's new automated sludge handling device replaces the traditional sludge box.  This completely automated dragout system makes the capture and reclamation of valuable materials such as carbide easy and profitable.
For heavy stock removal applications such as HSS, the new Transor SR eliminates the need for a magnetic pre-filter.  The unique design of the SR provides significantly enhanced backflushing of the elements and is offered for a single machine or as a centralized system.  
A touchscreen control center for accurate filtration
Automatic sludge handling makes cleanout a snap!
Dateline: May 2022
Transor Filter And Star Cutter Technology Work Together To Maximize User Productivity 
Transor Filter USA has announced a working relationship with Star Cutter which includes the promotion of Transor's One Micron filtration (OMF) system and Star Cutter's line of tool and cutter grinders. Both companies will have their technology on display in the Grinding Pavilion at the upcoming IMTS exhibition in Chicago September 12 -17, Transor booth #237440 and Star Su booth #237013.
 According to Irv Kaage, Transor CEO, "After several meetings and a presentation made to management and sales staff, Star SU recognized the many benefits that Transor's patented One Micron filtration brought to their ability to produce both carbide and HSS cutting tools. The combination of one micron filtration and temperature control (0.1º C.) has maximized their productivity."
Kaage added that Star SU will be offering Transor as a filtration option on their specialized tool and cutter grinders they sell into the marketplace. Plans also include the installation of a Transor unit in their own manufacturing facility.
Star Cutter specializes in producing solid carbide cutting tools, carbide blanks and preforms, gundrills, and 5-axis CNC tool and cutter grinding machines. In addition, they have an extensive line of gear grinding, hobbing, chamfer/deburring and vertical turning machines.
Dateline: January 2022
Read About Teaching Old Dogs New Tricks – Dumbarton Tool
After 35 years of making precision cutting tools, Dumbarton Tool President Dan Gray thought he knew all the factors impacting his manufacturing operation. Then his son, Dan Jr., and several of their younger machine operators introduced Gray to Transor's OMF (One Micron Filtration).
See what he has to say about increased cycle time, longer wheel life, finer tool finishes, carbide reclamation and a cleaner work environment.
Dan Sr (R) and his son Dan Jr.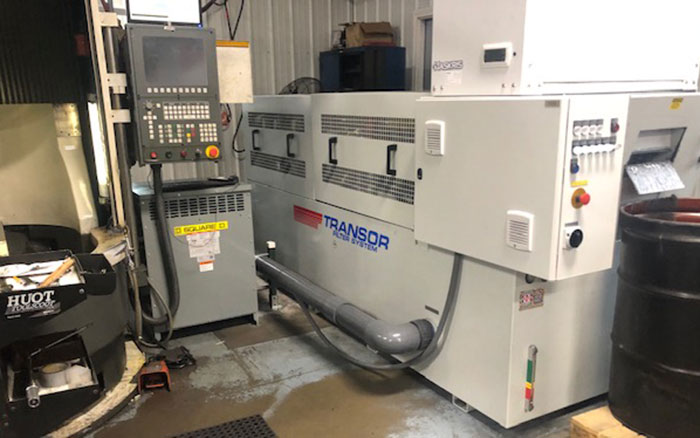 A Transor V-Series Filter system in place at Dumbarton
Dateline: October 2021
Transor V2 installed at VOLLMER of America
Transor Filter USA has shipped a new Series V2 filtration unit to VOLLMER of America in accordance with their recent joint marketing agreement. The Transor V2 is installed and provides a filtration system to serve two saw blade grinding machines at VOLLMER's state-of-the-art showroom at their US headquarters in Pittsburgh, PA. The two machines are the VOLLMER CHD 270 and CHF 270 – a fully automated service center for the complete machining of carbide-tipped circular saw blades.
Transor's patented OMF (One Micron Filtration) enables the VOLLMER machines to achieve faster cycle times and consistent, accurate finishes on complex circular saw blade tooth tops and faces, as well as saw blade side angles. VOLLMER is a world leader in machine tool technology for the production and maintenance of circular saw blades and rotary tools.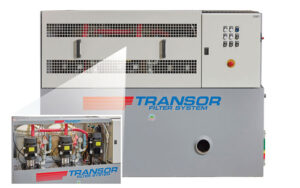 Dateline: September 2020
Read About How Transor & ATI's Long Time Relationship Has Been a Grand Success for Both
Long time Transor user, Advanced Tooling, Inc. (ATI) was featured in the Better Production section of the October 2020 issue of Modern Machine Shop. ATI president, Tom Pankratz, discusses his company's history and how Transor's One Micron Filtration (OMF) has played a significant role from ATI's start in Tom's garage to their current 20,000+ sq. ft. facility in Mt Calvary, WI.
During their growth, ATI has gone from a single Transor unit to their new V Series that delivers temperature controlled oil to over 60 cutter and tool grinders. This enables ATI to increase cycle times while confident in delivering repeatable performance in tool dimensions.
(l-r) Tom Pankratz, Irv Kaage standing next to ATI's latest, Anca TX7 linear machine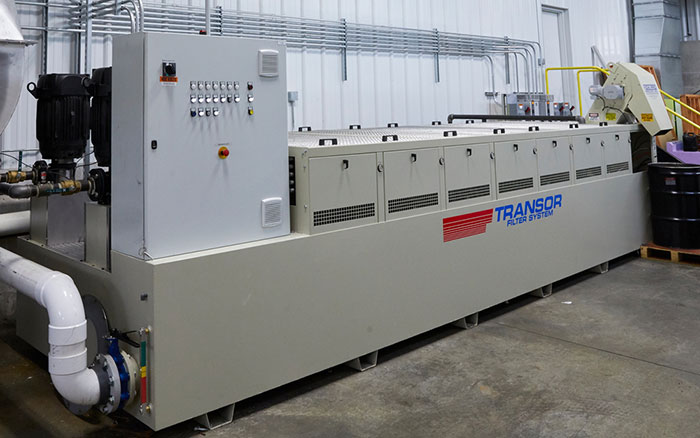 A new Transor V-Series Filter system in place at ATI
Dateline: August 2020
Challenging Aerospace Application Requires One Micron Filtration
Transor Filter USA announced that they shipped a specially designed V-18 Series modular filter to a prominent aerospace contractor. The V-18 unit will furnish those machines with a continuous supply of chilled, temperature controlled oil required for the application.
Aerospace applications require the EDMs to make multiple, intricate and precision cuts in each component. Having temperature controlled oil filtered to one micron "absolute" enables the machines to "stay in the cut" longer, thus reducing cycle times substantially. Clean oil from the V-Series also helps to prevent arcs and pits that can cause re-works.
While this unit has all the standard features of a Transor V-Series unit, it also contains pumps for both fast filling and circulation of the worktank along with pressure flushing.  While typical V- Series models have an integrated chiller unit, this special unit features a "free standing" chiller.  Like all Transor filters, maintenance is virtually eliminated because of the filters' self-cleaning elements, which have a life expectancy of 25,000+ operating hours. Sludge removed during the self-cleaning process is deposited to a 55-gallon drum via a dragout.

find out WHAT OMF CAN DO FOR
YOUR APPLICATION

Let us know what your application needs are, and we can help you save time and money.